Trauma implants are intended for the surgical treatment of fractures, deformities, and tumor diseases of bones, such as those of the arms, legs, shoulders, or skull.
Cranial implants
Requirements placed on the manufacture of cranial implants are stringent. It's really hard to standardize them because skulls have unique and irregular shapes. Naturally cranial implants need to be biocompatible, fit precisely and induce bone ingrowth into the edges of the 3d-printed implants. They also have to be permeable to allow brain fluid to pass through while minimal heat is being conducted to the cerebral tissue (especially in a sunny climate).
Additive manufacturing has been used to produce 3d-printed implants designed for individual patients in craniomaxillofacial surgery, with optimal size, shape and mechanical properties.
Internal fixation devices
Plates are devices fastened to a fractured bone to provide fixation. Bone anatomy is extremely complex in some areas. The plate may have to be bent in two directions and twisted. Traditionnaly, surgery time is needed to shape the plate until it fits the fracture as much as possible.
For surgeons, additive manufacturing provides a way to improve patient's healing, by producing plates, with traumaspecific geometry, within the time limit associated with fractures.
Shaping the plate to the exact geometry and digitally pre-planning the screws will provide a better attachment of plates and a good foundation to accomplish low invasive surgery, which gives small scars, a shorter open-wound time and shorter recovery time.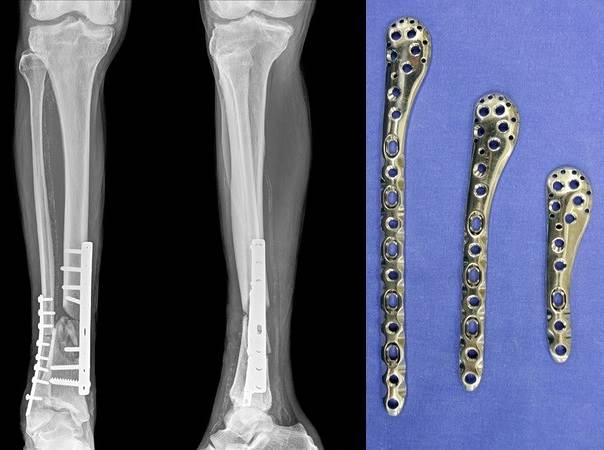 Internal plates and fracture.
Internal plates and fracture: Geometry is necessarily complex.
The concept of orthopedic implants obtained from metal additive manufacturing demonstrates a great potential for clinical applications. Better bone cell ingrowth and vascularization provide the basis for new orthopaedic innovations promoting better reliability and 3d-printed implants-body compatibility. As it changes the traditional paradigm, a new set of design, manufacturing and regulatory challenges have to be addressed to encourage further penetration in medical applications.
We are convinced that medical devices manufacturers should leverage the capabilities of metal additive manufacturing to remain competitive and provide surgeons and hospital best ways to maintain, assist or restore people's mobility. AM technologies can drive better outcomes for patients as well as healthcare providers.
To supply a growing demand, we have fully dedicated an EOS machine to the one-off production of medical grade titanium parts. We aim at providing our customers from the healthcare sector with both expertise and industrial know-how and we supply them with high-quality implants for orthopedics, spine and trauma.
Source: farinia.com